Here Is the Latest Atlas Line® Video...
Our Atlas Line® trading software is unique to us here at DayTradeToWin.com. You won't find anything else like it out there! There are four main types of signals that are produced: Atlas Long (buy) Atlas Sell (short), Strength (can be long/buy or short/sell), and Pullback (can be long/buy or short/sell). Generally, the main Atlas Long and Atlas Short trades are larger (going for more points) than the smaller Strength and Pullback trades. This means you should have plenty of opportunity to find trades in your favorite markets.
The basic idea is to follow the price action signals. The dashed Atlas Line® tells you whether you will be seeing long or short signals. When price is below, all signals will be short (sell). When price is above the line, all signals will be long (buy). We teach you all the rules in the included training video, written/digital course, and live training session.
The Atlas Line® software is very customizable. You can change a number of the color settings as well as the audio alert that plays when a signal appears. By default, we use a doorbell sound.
In this video, you'll see just how powerful the Atlas Line® signals are.
Atlas Line® Trading Software
See multiple entry signals with forecasting and confirmation.
Are you tired of deciding how and when to enter trades using outdated methods, inaccurate indicators, or guessing? The Atlas Line trading software tells you exactly how and when to enter by plotting either a Long or Short entry signal at the moment you should enter. You will know exactly when to buy or sell the market AHEAD of big moves. These signals are very accurate and can be used as a standalone trading system or in combination with our other strategies.
The plotted line provides you with a constant reference of how you should be trading (either Long or Short). When price is above the Atlas Line, stay Long. When below, stay Short. It's that simple.
Additional potential profit-taking setups are identified by the trading software's Strength and Pullback signals. These are the small S and P letters you have probably seen in our trading videos. These opportunities appear after the initial Long or Short move.
The Atlas Line trading software produces multiple Long and Short signals based on its proprietary algorithm. The line and generated order signals provide an indication of which way the market is expected to move. Instead of using multiple time frames or complex systems, use the Atlas Line to clear up inaccurate and conflicting signals. You can also use it as a filter for other strategies. Get either the Lifetime License or the 6-Month License. As a *special bonus for new Lifetime License customers, we include the News indicator. The News indicator plots upcoming news events on your chart so you can easily and conveniently stay informed of potential periods of high volatility. Currently, the Atlas Line is available for the NinjaTrader platform. We can license up to two computers you own.
Designed for Futures and Currencies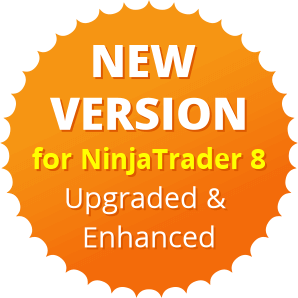 ES (E-mini S&P 500)
TF (Mini Russell 2000)
6E (Euro FX)
6A (Australian Dollar)
6C (Canadian Dollar)
6S (Swiss Franc)
CL (Light Sweet Crude)
GC (Gold Futures)
ZB (30-Year U.S. Treasury Bond Futures)
ZN (10-Year U.S. Treasury Note Futures)
...and much more!
Free live training is included with purchase. We will personally show you how to configure and trade the Atlas Line. Learn to identify the setups and the exact profit targets and stops. Your live training session will be recorded, so you can log in and play back the recording in the future. Remember that email support is also included. We can also assist with installation via remote support.
"I have been trading the Atlas Line for about 3 weeks using Dbl. Bar entries to start then the pull backs and strength trades throughout the rest of the session. I have had 90% winners to this point, keeping track of every trade. Best system I have seen thus far for electronic trading..."
– Erik L., Huntington Beach, California
Purchase

6-Month License – $599
Lifetime License – $1,799
Powerful entry signals & forecasting
Includes a reference guide
*Bonus News indicator (Lifetime only)
Includes an online training video
Includes ongoing weekly live training
Trade futures and currencies
Works w/ E-mini S&P and other markets
Use a 5-Minute chart or similar
Compatible with NinjaTrader 8
Incl. free updates and email support
Free remote installation available
After purchase, you will receive information to access the Member site. The Member site contains download, instructions, and training.
For ordering assistance, please call us at 1-888-607-0008 or email us at support@daytradetowin.com
Recent Atlas Line Trading Videos
Atlas Line FAQ With John Paul
What is the Atlas Line day trading software and how will it improve my day trading?
This is the most common question that I receive from day traders. The Atlas Line, a proprietary trading indicator, was developed for professional trading firms. Now available publicly, the Atlas Line provides a great advantage over other trading systems (and traders) because of its unique ability to produce Long and Short order signals prior to major price movement. Knowing that you can rely on one indicator to improve your results puts you at an advantage over other traders who believe "more is better." The Atlas Line indicator provides everything you need for consistent success: when to enter the market and how to enter (Long or Short).
Does the Atlas Line only work on the E-Mini S&P 500 or can it work on other futures, the Euro and other currencies?
One of the best features about the Atlas Line trading software is the fact that it can be used across many types of markets. I prefer futures and currencies, as they traditionally offer great volatility. It's best to avoid markets that move slowly. The E-mini S&P works particularly well for day trading. It's my preferred market. Generally, futures markets offer plenty of intraday opportunities. Currencies such as the Euro FX (6E), British Pound (6B), and the Australian Dollar (6A) also perform very well on a regular basis. Additionally, energy markets such as Light Crude Oil (CL), metals like Gold (GC), or other markets like Bonds (ZB) and the Dax (FDAX) also work very well with the Atlas Line.
Does the Atlas Line software confirm long or short entries in real-time as a leading indicator?
Yes.
Does the Atlas Line software display orders to enter the market Long (buy) or Short (sell) on charts with exact price entries
Yes.
What day trading software platforms are compatible with the Atlas Line?
The Atlas Line supports NinjaTrader. If you need help obtaining NinjaTrader or getting set up, let us know via the Contact page.
Is the Atlas Line a price action indicator?
Yes, the Atlas Line utilizes only price in its calculations. Because only price is used, there are very few parameters to configure. Normally, indicators require additional configuration steps (on a per market or per time frame basis) because they rely on other data besides price.
What kind of trades can I expect with the Atlas Line?
The Atlas Line produces multiple Long and Short trading signals on a daily basis for each market you trade. In addition, there are two unique trading signals (Pullback and Strength) generated according to the price action of the market. In NinjaTrader, a Long signal on the E-mini S&P would appear on your trading chart as the text "Long 1205.25". As a price action indicator, the Atlas Line does much more than provide exact charted entries. Other indicators may experience latency (aka "lag") whereas the plotted Atlas Line maintains a static direction.
Can the Atlas Line be used in conjunction with other indicators or trading methods?
Yes, the Atlas Line can be used for filtering trades, used with an existing scalping method (as the Atlas Line can help determine trends), and the Atlas Line can also help confirm entries for your own trading strategies. Before you enter the market, confirm the trade based on the Atlas Line. For example, if you are about to enter the E-mini S&P Short utilizing your own strategy or method, see if your thinking agrees with the relationship between price and the Atlas Line. This alone may prevent losing trades that you would have otherwise taken. Remember that if you enroll in the Mentorship Program (a separate product), you receive a Full Atlas Line license in addition to the nine or so other trading methods.
Terms and Conditions
By visiting this site, purchasing or using products offered by Day Trade To Win, you agree to the following Terms and Conditions. All sales are considered final due to the nature of software licenses, digital downloads, live instruction and proprietary methods taught. No refunds. Day Trade To Win has the right to refuse any customer for any reason. Remote support is available for up to one year from the date of purchase. Additional fees may apply for further remote support. All instruction, signals and advice supplied by Day Trade To Win representatives or software is to be used at your own risk. Day trading is inherently risky, as it involves unlimited profit and loss. Day Trade To Win cannot be held accountable for any loss or other financial damages. Course material may not be resold, transferred, duplicated, copied or shared in any way (digitally or physically). Such sharing is subject to criminal penalties and terminates all licenses you hold with Day Trade To Win. Agreeing to these Terms and Conditions also concedes agreement to the U.S. Government Required Disclaimer and CFTC Rule 4.41 listed below.