Here Is the Latest Trade Scalper Video...
The Trade Scalper is another powerful price action trading method/software unique to us at DayTradeToWin.com. There are four main types of signals that are produced: Long, Short, Double-Wick Long, and Double-Wick Short. We fully explain this method. Are you ready to learn? We teach you how to use the signals and how to find opportunities on your own. The goal is to get in and out quick. No need to stay in the market longer than necessary or trade with huge stop losses; it's all about focusing on many moves each day!
You'll want to be ready to place a trade soon after a signal appears. These Trade Scalper signals work well on 1-Minute and 2-Range charts, though other time frames are supported. The Trade Scalper is highly compatible with many other markets as well (see below). The included training videos, bonus X-5 course (aka the Floor Trader Secrets Manual), and a live training session teach you what you need to know.
You can customize the colors of the signals as well as apply a custom sound for the many signal alerts you'll be receiving. By default, we use the doorbell sound, but feel free to change it as needed.
Want to see a review of the latest price action signals? Watch the full video...
Trade Scalper – A Scalping Day Trading System
Use a quick in-and-out approach multiple times each day.
The Trade Scalper course teaches you how to scalp trending markets. This is not Day Trading for Dummies. We avoid the generalities and teach you an exact day trading strategy. What is scalping? Think of quick trades using tight profit targets and stop losses. You're looking to win repeatedly throughout the day. You'll learn how to find these trades without the aid of software. The strategy is fully disclosed – nothing is held back. Of course, you can also use the included Trade Scalper software for NinjaTrader. The software provides exact entry signals, pinpointing the moment you should enter as well as anticipated market direction.
You'll be using charts with a one-minute time frame. Stop losses are six ticks or less. You are taught how to filter out bad trades and focus on those with the highest probability. The strategy is easy to learn. In no time, you will be scalping just like Trading Coach. In fact, the included live training will ensure you are trading correctly.
The digital course is 70+ pages and is provided as an instant download. The Trade Scalper software was recently revamped for the new NinjaTrader 8 platform. *As a special bonus for Lifetime buyers, you will also get access to the powerful X-5 course, also known as the Floor Trader Secrets Manual. Once off-limits to average traders, this remarkable strategy will teach you how to use manipulation to find trade setups on five-minute charts in a completely new way. Lifetime and 6-Month buyers will receive the *News indicator bonus that plots upcoming news events on your chart.
Scalp trading is fast-paced. You hold trades for just a few minutes. There's no need to trade longer than the rules dictate. Scalp trades occur day and night, so you'll have plenty of opportunities regardless of the market or your time zone. You'll learn to trade based on proof. You'll learn to visually confirm each trade. Scalping is an essential price action technique that's easy to learn and benefits traders of all experience levels.
Trade Day and Night in Many Markets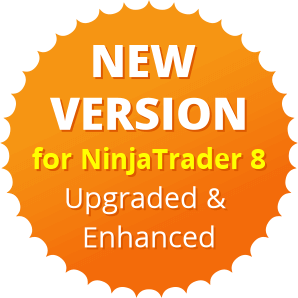 NASDAQ, NYSE stocks
International stocks
ES (E-mini S&P 500)
6E (Euro FX)
6A (Australian Dollar)
6C (Canadian Dollar)
6S (Swiss Franc)
CL (Light Sweet Crude)
GC (Gold Futures)
ZB (30-Year U.S. Treasury Bond Futures)
...and much more!
On your 2-Range or 1-Minute NinjaTrader chart, the Trade Scalper software will plot two types of signals: regular "Long" and "Short" as well as "Dbl Wick". There is no need to optimize the indicator software – simply install it and add it to your chart. At no extra cost, we can even install it for you via remote support.
"This morning, I tried a few scalp trades on the ES using the scalping system. This is more $$ than I have made in months. Please see the screenshot below. I can't tell you how grateful I am...amazing."
– James K., Houston, Texas
Purchase

6-Month License – $597
Lifetime License – $1,797
Includes signal software for NinjaTrader
Learn a powerful scalping strategy
Quick in-and-out trading – many trades
*Bonus News indicator
*Bonus X-5 course (Lifetime only)
Includes online training video
Includes ongoing weekly live training
Use a 2-Range or 1-Minute chart
Smaller stop losses
Works w/ E-mini S&P and other markets
Compatible with NinjaTrader 8
Incl. free updates and email support
Free remote installation available
After purchase, you will receive information to access the Member site. The Member site contains download, instructions, and training.
For ordering assistance, please call us at 1-888-607-0008 or email us at support@daytradetowin.com
The Trade Scalper becomes even more powerful when you combine it with the Atlas Line (sold separately). Remember that the Trade Scalper works alongside trends. The Atlas Line can help you find trends because it provides an estimation of market direction. In addition, if the Atlas Line signals match up with your Trade Scalper signals, you have an additional layer of confirmation.
We will help you get set up with everything you need including the NinjaTrader 8 trading platform and real-time practice market data. You'll be able to practice with real-time market data. You'll be able to spot the Trade Sca;[er trades and trade them according to the rules. We provide a complete practice environment at no cost.
What is the E-mini S&P? This market is similar to the big S&P you've probably seen on the news, only this is the "mini" version that's more affordable to traders like you. The E-mini provides many great opportunities, and it's possible to make money by both buying and selling the market. Of course, there's also plenty of opportunity to lose money, so only trade with money reserved for high risk investments.
Recent Trade Scalper Trading Videos
Terms and Conditions
By visiting this site, purchasing or using products offered by Day Trade To Win, you agree to the following Terms and Conditions. All sales are considered final due to the nature of software licenses, digital downloads, live instruction and proprietary methods taught. No refunds. Day Trade To Win has the right to refuse any customer for any reason. Remote support is available for up to one year from the date of purchase. Additional fees may apply for further remote support. All instruction, signals and advice supplied by Day Trade To Win representatives or software is to be used at your own risk. Day trading is inherently risky, as it involves unlimited profit and loss. Day Trade To Win cannot be held accountable for any loss or other financial damages. Course material may not be resold, transferred, duplicated, copied or shared in any way (digitally or physically). Such sharing is subject to criminal penalties and terminates all licenses you hold with Day Trade To Win. Agreeing to these Terms and Conditions also concedes agreement to the U.S. Government Required Disclaimer and CFTC Rule 4.41 listed below.